BMCE Capital Gestion
With a strong expertise in managing funds, our team of experts will help you build the very best investment strategies across all asset classes.

Myriem BOUAZZAOUI , Chief Executive Officer
As a leading player in Morocco's Asset Management industry, BMCE Capital Gestion provides institutional, corporates and individual investors with effective investment solutions.
Since 1995, BMCE Capital Gestion has built a reputation for high-quality investment solutions and organisation that meet the highest global standards. Our strategy is driven by innovation and the will to continuously outperform in every level of our business.
We benefit from the solid support of BANK OF AFRICA Group, one of the leading financial institutions in Morocco, as well as the expertise of support functions of its investment bank, BMCE CAPITAL. To serve your interests as best as we can, we focus all our efforts on our core business, the asset management.
Watch our institutional video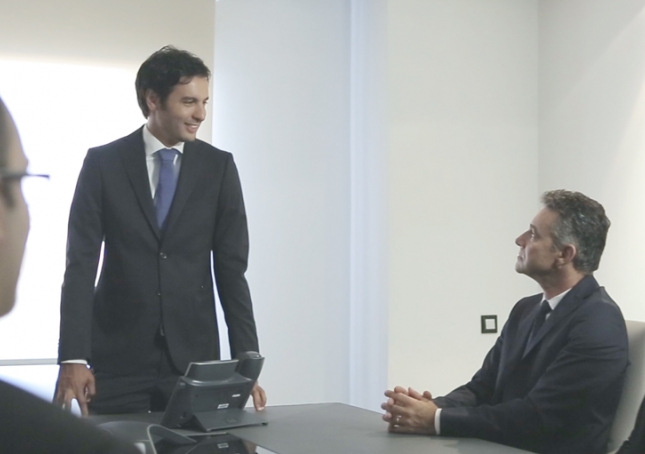 Watch the video
BMCE CAPITAL GESTION IN FIGURES
A high quality management reputation
71

MAD billion of assets under management

14 %

market share

52

funds managed

21

years' experience in asset management
VALUES & COMMITMENTS

Our mode of governance ensures that we operate with independent oversight and with full transparency towards our clients. Our team of experts is dedicated to guide you and advise you over the long term.We are strongly commited to risk control and continous innovation, resulting in high-performing investment solutions which are tailored to every need.

Our aim is to build a relationship of trust and to help you create value.

Meryem BOUAZZAOUI, Chief Executive Officer
-
DISTINCTIONS & AWARDS
FITCH RATINGS

BMCE Capital Gestion is rated 'Highest Standards (mar)' by Fitch Ratings. This rating is the highest awarded by Fitch Ratings within Morocco's mutual fund management industry. This distinction reflects our experience and the commitment of our shareholder, the quality of our control processes, our highly reliable governance processes, our efficient operational processes and our technological platform which meets the highest global standards.

Rating obtained for the first time in 2003 – most recently updated in January 2018

ISAE 3402 CERTIFICATION

BMCE Capital Gestion was the first asset management company in Morocco to obtain Type I and Type II ISAE 3402 global certification for the compliance of its internal control processes.

This certification underlines our commitment to update our internal control processes regularly and highlights senior management's commitment to pursuing an effective risk management policy.

Certification obtained in 2013 – most recently updated in June 2017

ISO 9001 2015 CERTIFICATION

BMCE Capital Gestion was the first asset management company in Morocco to acquire ISO 9001:2015 certification, underlining the effectiveness of the company's quality management system which covers all processes.

Certification obtained in 2014 (ISO 9001:2008) – most recently updated in May 2018 (ISO 9001:2015)

STANDARD AND POOR'S RATINGS

The FCP Capital Monétaire money market fund is the first Moroccan fund to be rated by Standard and Poor's. Standard & Poor's assigned the fund an 'Af/S1+' global rating, which acknowledges the credit quality of the assets held in the portfolio.

Certification obtained in 2013 – most recently updated in December 2017

LIPPER FUND AWARDS 2018

At the Lipper Fund Awards MENA 2018, organised by Thomson Reuters in Dubai, three of BMCE Capital Gestion's funds won awards for performance quality:

FCP Capital Terme: Best Fund Awards over 3years , 5 years and 10 years in the Bond Morocco Dirham category.
FCP Capital Imtiyaz Liquidité : Best Fund Award over 3 years in the Bond MAD Short Term category.
FCP Capital Multi-Gestion : Best Fund Award over 10 years in the Mixed Asset MAD Balanced category.

"ENGAGEMENTS DE SERVICE" CERTIFICATION

BMCE Capital Gestion is the first asset management company in Morocco to obtain the "Engagements de Service" certification. Through these services commitments, BMCE Capital Gestion is commited to its clients over the respect of 7 commitments related to the quality of service delivered.
This certification, awarded by Bureau Veritas Maroc, confirms BMCE Capital Gestion's commitment to raise its standards to international best practices in order to increase client satisfaction.
Certification obtained in 2016 - most recently updated in May 2018

MENA Fund Manager Performance Awards 2018

At the MENA Fund Manager Performance Awards 2018, organised in Dubai in January 2018, FCP Capital Long Short won an award in the "Newcomer Fund - 12-24 Months" category. This award acknowledge FCP Capital Long Short as the most innovative fund in MENA region.
TEAM & ORGANISATION
TEAM EXPERTISE
Our team is entirely focused on our core business, asset management. Whether it is market analysis, asset management, customer relationship management or control processes, we are dedicated to managing funds so as to meet all of your needs. The Risk and support functions (legal, IT systems, risk management, human resources, organisation and quality) are provided by BMCE Capital.
Our team is made up of expert asset managers and investment advisors specialised by investor profile (institutional investors, corporates and individual investors). They provide customised services on a continuous basis.
Customer relationship management at the core of our organisation
The Investor Relations Unit is the interface between BMCE Capital Gestion and you.
Our investment advisors are specialised in three different client segments: institutional investors, corporates and individual investors. They are in regular contact with you through meetings or telephone calls. Ongoing contact enables to monitor results and provides you the best possible guidance depending on your investment needs.
Customised solutions can be provided in respect of specific investment requests in conjunction with the investment management team, particularly regarding replies to consultations.
Investment advisors are responsible for monitoring the entire order process, from when an order is placed right through to conveying investment reports to clients.
Investor Relations' main responsibility is to keep you informed and advise you.
A SUCCESSFUL ORGANISATION
Our organisation and governance system allow us to take a highly disciplined approach to managing investments. Several committees covering investment, management, sales strategy, risk and innovation ensure that our actions are rigorously monitored.
Our cutting-edge IT systems enable us to manage assets and liabilities in line with the highest global standards and steer our business with precision :
-the SOPHIS VALUE solution : the leading software solution in the portfolio management and risk management industry
-CRM BMCE Capital Gestion : a specialist CRM tool
-BI BMCE Capital Gestion : the next-generation business intelligence application.
MILESTONES
Years
1995

1999

2002

2003

2007

2008

2010

2011

2012

2013

2014

2015

2016

2017

2018

2019
Fitch affirms BMCE Capital Gestion at 'Excellent (mar)'
2019
At the MENA Fund Manager Performance Awards 2018, FCP Capital Long Short won the best fund award in the "New Comer" category
Fitch affirms BMCE Capital Gestion at 'Excellent (mar)'
At the Lipper Fund Awards MENA 2018, the following funds won awards for their performance quality:
FCP Capital Terme: Best Fund awards in the "Bond MAD" category
FCP Capital Imtiyaz Liqudité : Best Fund award in the "Bond MAD Short Term" category
FCP Capital Multi-Gestion: Best Fund award in the "Mixed Asset MAD Balanced" category
2018
At the MENA Fund Manager Performance Awards 2017, FCP Capital Combo won the best fund award in the "New Comer" category
At the Lipper Fund Awards MENA 2017, the following funds won awards for their performance quality:
FCP Capital Balance: Best Fund award in the "Mixed Asset MAD Balanced" category
FCP Capital Terme: Best Fund award in the "Bond Morocco Dirham" category
2017
"Engagements de Service" and ISO 9001:2015 certifications obtained
Launch of Morocco's first mutual fund with an investment strategy based on Long/Short strategies : FCP Capital Long/Short
Fitch affirms BMCE Capital Gestion at 'Highest Standards (mar)'
2016
BMCE Capital Gestion celebrates its 20th anniversary with the launch of its institutional website and OPCVM Direct for client accounts
At the Lipper Fund Awards MENA 2015, the following funds won awards for their performance quality:
FCP Capital Multigestion: Best Fund award in the "Mixed Asset MAD Balanced" category
FCP Capital Participations: Best Fund award in the "Equity Morocco Dirham" category
FCP Capital Terme: Best Fund award in the "Bond Morocco Dirham" category
FCP Capital Imtiyaz Liquidité: Best Fund certificate in the "Bond Morocco Dirham - Short Term" category
2 new thematic funds launched:
Investment theme focusing on Africa: FCP Capital Afrique
Investment theme focusing on Social Responsibility: FCP Capital ISR
2 new funds launched with an innovative management approach:
Multi-assets and multi-zones balanced fund: FCP Capital Global Macro
Defensive fixed income fund with a dynamic exposure to equities: Capital Combo
2015
ISO 9001:2008 certification obtained for Quality Management System covering all BMCE Capital Gestion's processes
FCP Capital Imtiyaz Liquidité wins the award for the "Best Fixed-income Fund in Morocco" by Zawya Fund Awards 2013
BMCE Capital Gestion's internal control processes obtains ISAE Type II certification for compliance
2014
Fitch Ratings affirms its rating at 'Highest Standards (mar)'
BMCE Capital Gestion's internal control processes obtains ISAE Type I certification for compliance
Standard & Poor's assigns the "FCP Capital Monétaire" money market fund an 'Af' global rating
2013
Fitch Ratings upgrades BMCE Capital Gestion's rating to 'M2+ (mar)' from 'M2 (mar)'
Launched of "Capital Obligations Banques", a Moroccan fixed-income fund, investing in bank sector debt securities
2012
Winning of the EMEA Finance award for the best asset management company in Morocco
2011
BMCE Capital Gestion acquires SOPHIS VALUE, a cutting-edge IT management solution
Launch of the Morocco's first-ever capital guaranteed fund which replicates the performance of Eurostoxx 50, a European equity index
2010
Company changes its name from 'MARFIN' to 'BMCE Capital Gestion'
Fitch Ratings assigns 'AA-'
Capital Obligations Plus launched, the first Moroccan fund to invest exclusively in corporate debt securities
2003
Remonter à la timeline